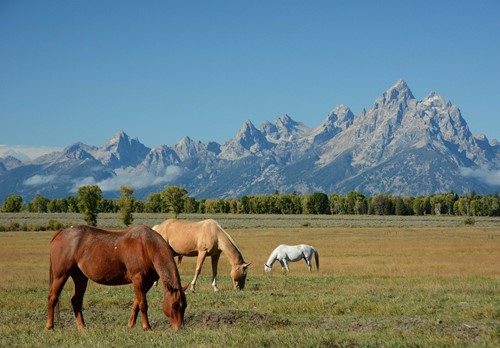 Image by Steppinstars from Pixabay

Before you plunk your hard-earned money down on a working luxury ranch, look at several factors, including location, features, your experience and business opportunities. The success of the ranch hinges on your experience or the people you hire to run the ranch. Even if it's a private ranch where you might sell horses or cattle, you either need experience or need to hire people who have experience.
Type of Ranch
Determine what type of ranch you will have. A horse ranch, cattle ranch and a dude ranch are all different. The type of ranch will also determine the location of the ranch. Horse ranches need stables and corrals. You might need several barns, including a foaling barn, if you plan on raising and selling horses. Cattle ranches might need foaling barns, milking barns and separate barns and fields for steers and cows. A dude ranch is a working ranch that allows guests. In addition to the typical ranch buildings, you'll also need a place for people to stay, whether you build a hotel-type building or you build separate cabins.
Location
Ranches are usually located well outside of town and cities because of the amount of area they take up. A smaller ranch might have 5,000 acres, while a large ranch could have tens of thousands of acres. The size of the ranch will determine the location.
Whether you buy raw land to make your own ranch or you buy an existing ranch, you must also look at the features of the land. Working ranches must have enough flat or slightly rolling areas for cattle or horses to graze. The entire ranch cannot be on the side of a mountain. If you want features for horse trails, whether for a dude ranch or for yourself, look for a property that is flat but encompasses part or all of a mountain. With such a large property, you'll probably have some streams, but you may want larger water features, such as a pond, lake or a stream or river that runs year 'round.
Working the Ranch
If you buy a turnkey ranch, be ready to go through the employees to determine whom you will keep. You might also wish to hire additional employees. If you buy a dude ranch, in addition to a ranch foreman and hands to work the horses or cattle, you'll need to staff the guest quarters, including kitchen staff, front desk employees, maids and more.
Ranch Demographics
Finally, make sure the ranch demographics are what you want. For example, if you buy a dude ranch, where are the guest quarters located? Are they too close to the main house? Are they too close to the stables? Does the ranch have what you need for your plans, including enough barns, the proper equipment and the right features? Is the main house what you are looking for, or do you need to add on or tear it down and rebuilt to your specifications?
Because you have so many elements to consider, make a checklist of what you are looking for so that when you do visit luxury ranches for sale, you can make a better decision.