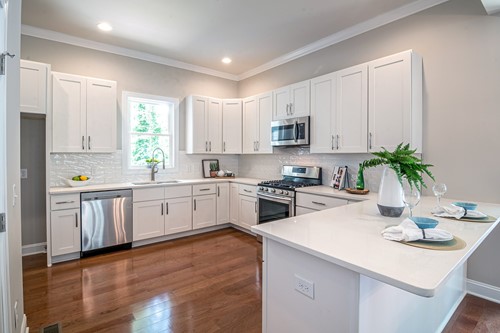 A kitchen remodel can transform your home but it also can be a costly home renovation project to take on. Fortunately, it is possible to create your dream kitchen without blowing your budget. These tips will help you remodel your kitchen and employ the latest trends without depleting all of your cash reserves.
Paint Your Cabinets Instead of Purchasing New
Purchasing new cabinets is often the most expensive part of a kitchen remodel project. If your cabinets are still in good shape, then you can save a lot of money by giving your existing cabinets a fresh look rather than replacing them entirely. Wood cabinets can be stripped and repainted in order to match the theme of your new kitchen. If your cabinets do not need to be repainted or stained, then you may consider simply switching out the hardware to give the cabinets a modern look with minimal effort or cost.
Don't Alter the Footprint of Your Kitchen
Rather than gutting your kitchen and redesigning it entirely, you can give it a new look without changing its footprint. By keeping your plumbing, appliances and cabinets in the same spot, you can eliminate some of the highest costs associated with renovating a kitchen. Maintaining your existing layout will not only help you save money on materials, but it also will significantly reduce your labor costs.
Consider Remnant Stone for Your Counters
A trip to the granite yard will reveal that new stone for your countertops can come with a hefty price tag. Rather than purchasing the perfect stone that is available on the floor, consider asking the manager of the yard if there is any remnant stone available for you to look at. Remnant stone is old pieces of stone that were leftover from previous projects. Many of these pieces are in excellent shape and cost far less than the full pieces in the showroom. If you do not have a lot of counter space to cover, then you may be able to score a great deal on remnant stone for your kitchen remodel project.
Look Into Floor Model Appliances
If you are looking into remodeling your kitchen, then you may also be interested in purchasing new appliances. Brand new energy-efficient appliances may be a luxury item for some but it's still possible to save money and get the latest equipment that works well. You may be able to purchase floor models or models with minor scratches and dents for a fraction of the cost of new appliances.
Do It Yourself When You Can
There are many aspects of a kitchen remodel project that can be done on your own. You may want to consider saving money on labor by tackling a few projects by yourself, such as installing the backsplash or flooring or painting the cabinets yourself.
You can remodel your kitchen on a budget and most people who come into your home will have no idea that you cut corners in order to make it your most affordable project yet. By completing work on your own when you can and reusing what is still in good shape in your kitchen you can refresh the look of the room without breaking the bank.